IR4000HD

Your TV, Anytime, Anywhere
High Definition Digital Satellite Receiver
This Humax HD TV receiver gives you everything you need to be in control of your TV viewing.
Connect to your home network and satellite dish for the best enjoyment.
Your TV, Anytime, Anywhere
Send what you're watching on your mobile device to your TV, and bring content from your TV to your mobile device.
When you have to move to another room in the middle of watching TV at home, you can continue watching live TV by bringing it into your mobile devices.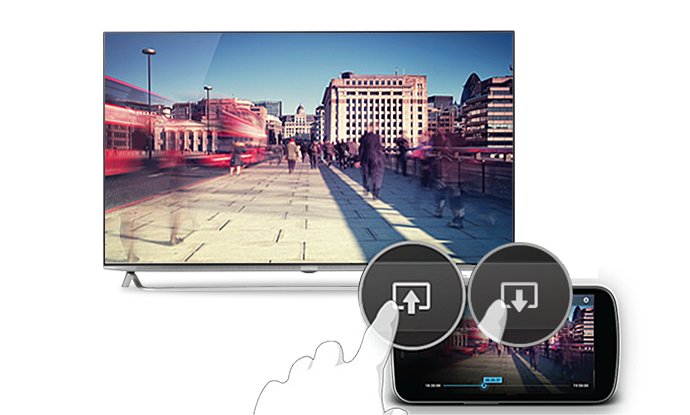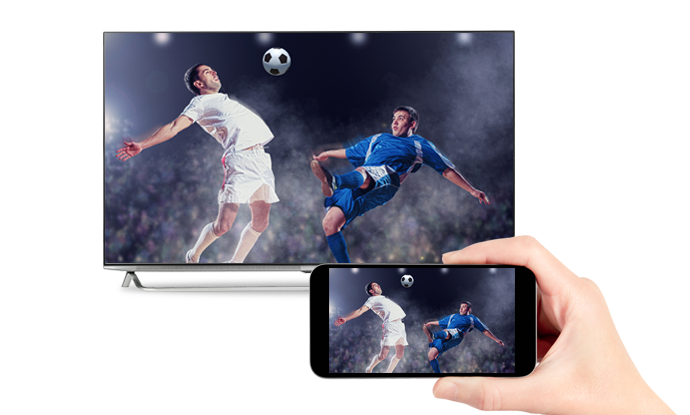 Big Screen, Bigger Pleasure
Multimedia streaming for Apple Device & Youtube Video
Send the media file you are watching on your Apple device to your TV and also send a Youtube video on your mobile device to the big screen.
Media Station
Play all your digital media content
Enjoy content from your HUMAX product and other home network devices on your mobile device.
Watch the content stored in your tablet, smartphone, second room STBs and PC.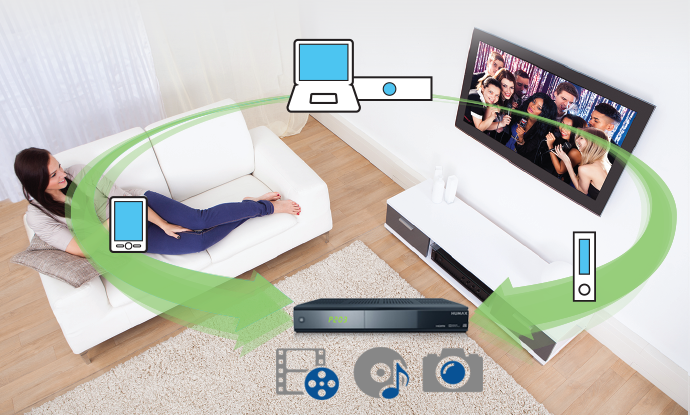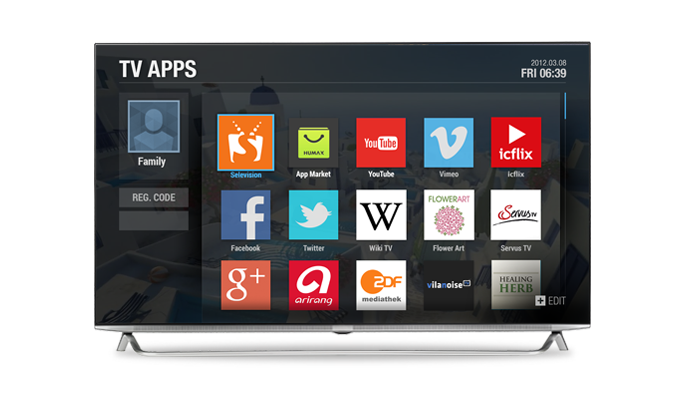 TV Apps
Access popular online content from the comfort of your living room.
The Humax TV Apps is your gateway to a host of extra catch-up and on-demand services. Simply hook up the receiver to your home network using Ethernet cable, powerline adaptors or a Humax wireless dongle, to access a wide range of services including YouTube, and Internet Radio. Additional services are planned for the near future.
HUMAX Mobile Apps
*Download the HUMAX mobile Apps from App store or Google Play by searching 'HUMAX'.
Live TV
Watch a live TV programme on your mobile device anywhere in your home
– Get access to TV Guide
– Schedule a reminder, recording remotely
– 'Send to TV' what you are watching
– 'Bring in' what you are watching on TV
Media Player
Play content from your HUMAX product or other home network devices.
TV Remote
Control your HUMAX product with your mobile devices using a wireless connection.
– Set remote or keyboard mode on a phone
– Simple or full mode on a tablet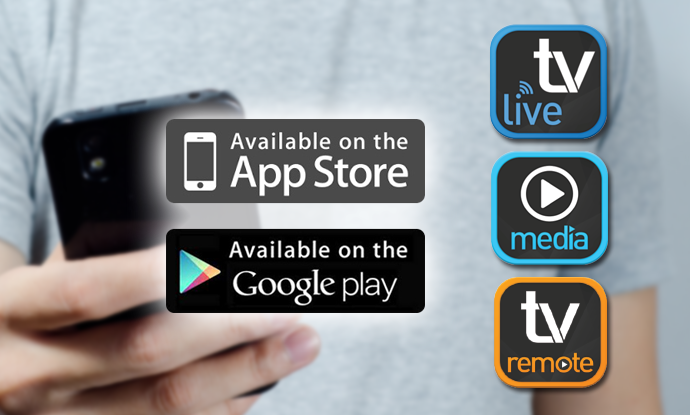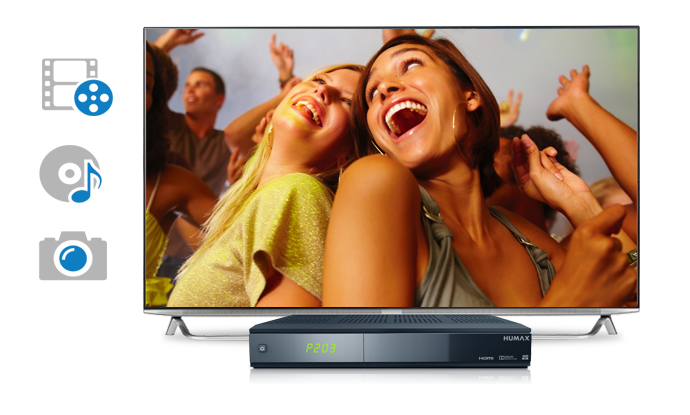 Play media files
Access your digital media files from any drive in your home.
Because our receiver can access USB drive, you can watch and listen to all your videos, photos, and music from one place.
IRDETO CAS embedded with 1 Smart card slot
Get even more variety with Pay-TV.
Access encrpted programming such as Pay TV or Pay Radio with the Smartcard.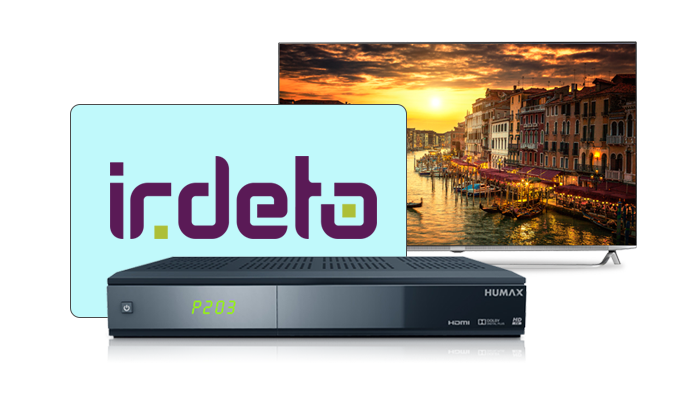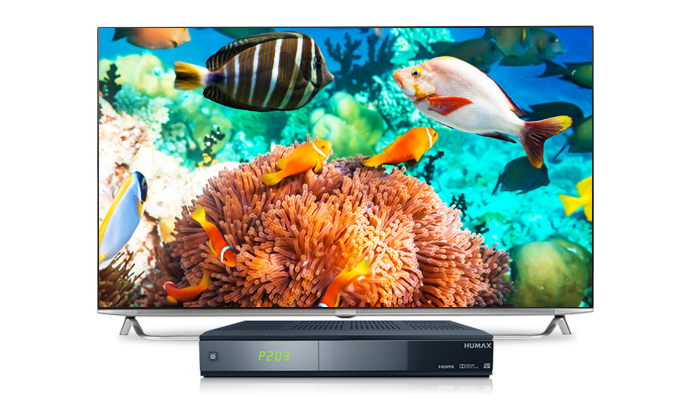 HDTV
It's an HD world out there.
High definition (HD) is definitely easier on the eyes. As compared to standard definition, HD gives you more vivid detail, finer gradations, truer colours, and more precise contrasts and contours.
HDMI output
Enjoy high-definition video and audio as they were meant to be.
Just connect the High-Definition Multimedia Interface (HDMI) cable to any HD source and enjoy the optimized pictures and sounds each and every time.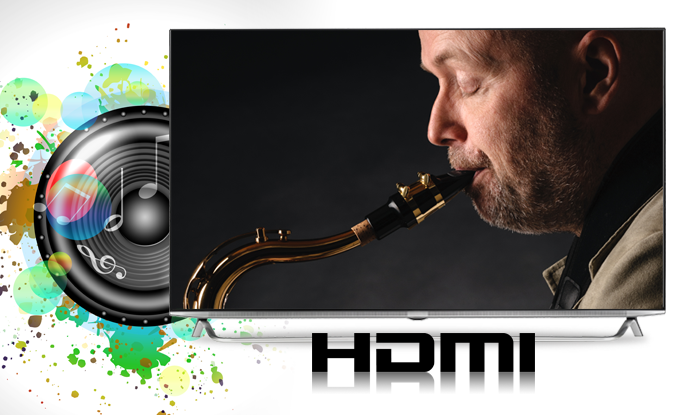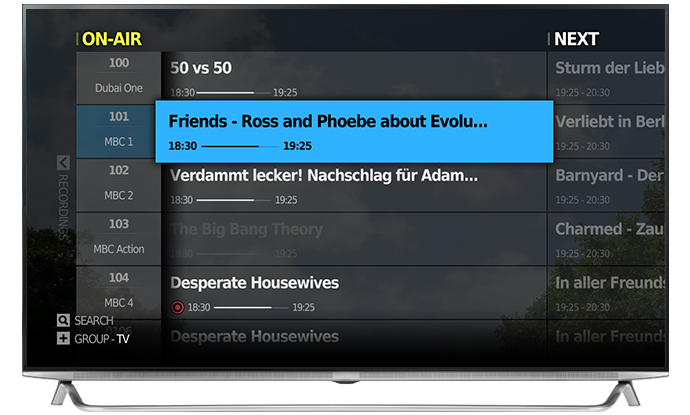 HUMAX EPG
View an entire week of TV programme schedule in detail.
Electronic Program Guide (EPG) gives you all the details of radio and TV programmes for the next sevens days right on your screen. (Content will depend on each programme provider)
Surround sound
The sound is truly cinematic.
You get the outstanding digital sounds of the world's best cinemas right in your own living room.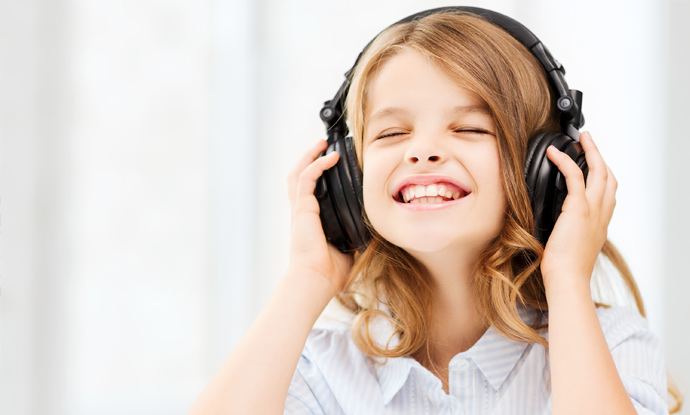 New Irdeto Cardless solution
Receive HD and SD satellite channels.
HUMAX AUTO Antenna Search
Don't worry about your satellite connection. The receiver detects satellites automatically and searches faster using the HUMAX engine.
TV/Radio channel list
Receive all free digital satellite TV and radio channels. .
Access to all Free-to-air channels
Watch the most popular HD movies and TV shows for free.
HUMAX OTA
You can easily update your receiver. New versions can be updated through automatic software upgrade service (OTA) via satellite.